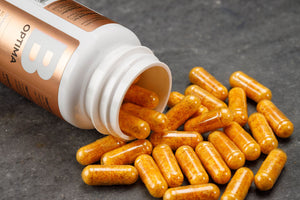 B-Optima: Vitamin B Complex
B-Optima
Vitamin B Complex
What is B-Optima?
B-Optima is a Vitamin B Complex that can help support energy production, mood and stress management, cell metabolism, and organ and tissue health.
B-Optima is a powerful mix of B Vitamins and more. 

Visanto B-Optima is comprised of:
Thiamine (Vitamin B1) - Thiamine, also known as Vitamin B1, is a water-soluble vitamin that is found in some foods. It can help metabolize energy and may help support proper functionality of cells in the body. 
Riboflavin (Vitamin B2) - Riboflavin, or Vitamin B2, is an essential vitamin that plays a major role in the body's energy supply. It also helps with skin and cell development. 
Niacin (Nicotinic Acid Amide) - Niacin is a form of Vitamin B3. This vitamin can help support stress management and cardiovascular health.  
Pantothenic Acid (Vitamin B5) - Vitamin B5 can help metabolize fats and carbohydrates into energy. It also plays a major role in supporting blood cell production and health. 
Vitamin B6 (P-5-P) - P5P, the active form of Vitamin B6, can help support brain health and energy levels. 
Vitamin B12 (5'- Deoxyadenosylcobalamin and Methylcobalamin) - Vitamin B12 can help support your nervous system and cell health. It can also help with brain health and memory performance.  
Folic acid (Calcium L-Methylfolate) Folic acid can help support cell development and health. It can also help support your cardiovascular system.
Choline - Choline can help boost your metabolism when taken with a healthy diet and exercise. It also helps support the nervous and cardiovascular system. 
D-Biotin - D-Biotin, also known as Vitamin B7, is a water-soluble vitamin that supports metabolism and your body's digestive system. It also aids in brain health and functionality by helping to balance the hormones in your body. 
Inositol - Inositol is sometimes called Vitamin B8. This vitamin plays a strong role in maintaining healthy stress levels and supporting brain health. It can also play a role in supporting proper insulin levels. 
Para-Aminobenzoic Acid (PABA) - PABA, also called Vitamin B10, can help support skin health. 
Dimethylglycine (DMG) - Dimethylglycine can support your immune system and help your body defend against germs and infections. It can help with stamina and athletic performance. Plus, DMG can help with anti-aging effects. 
Nucleotides - Nucleotides can provide recovery benefits to the body. It can also support your immune system health. 
Why B-Optima?
Energy Levels
B-Optima can help support and maintain healthy energy levels. 
Mood & Stress
B-Optima can help balance hormones which could result in reduced stress or depression. 
Cell Metabolism
B-Optima can help build, repair and strengthen your body's cells. It also can help play a role in overall skin health. 
Immunity Support
Many of the B Vitamins found in B-Optima can help support your immune system and overall well-being. 
Visanto supplements are 100% pure and all-natural – plus the supplements never contain any additives or fillers.
** These statements have not been evaluated by the Food and Drug Administration. This product is not intended to diagnose, treat or prevent any disease.   
---