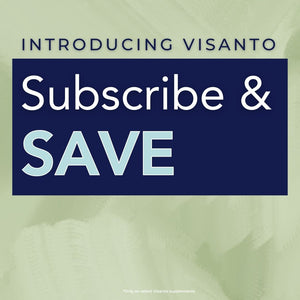 Subscribe and Save
Introducing Visanto's Subscribe and Save
At Visanto, we're dedicated to providing you with pure, natural supplements that can help enhance your well-being.
Now, we are making it easier than ever to keep stocked with your favorite supplements.
Introducing Subscribe and Save! Now you can save 5% on reoccurring subscription orders ever 4 or 8 weeks. This is designed with your convenience and health in mind, allowing you to effortlessly incorporate our high-quality supplements into your routine.
How it Works
1. Select Your Products: Choose from our wide range of natural supplements. From immune support to stress relief, we have a diverse selection to cater to your unique needs.
2. Choose to Subscribe: Once on a product page of your choice, click "Subscribe and Save"
3. Choose Your Delivery Schedule: Opt for a 4-week or 8-week delivery frequency, depending on what suits your lifestyle and consumption patterns.
4. Add to Your Cart: Click "Add to Card" 
5. Either continue shopping or Check Out
Watch this video to learn more:
You can now have your favorite supplements delivered straight to your doorstep every 4 or 8 weeks while saving 5% on each reoccurring order. 
The Benefits
Savings: With our Subscribe and Save plan, you'll enjoy a 5% discount on every reoccurring order - this applies to select Visanto products. 

Customized Frequency: Tailor your delivery schedule to your needs. Whether it's a monthly or bi-monthly cadence, we've got you covered.

Hassle-Free Experience: Once you set up your subscription, we'll handle the rest. 
Manage Your Subscriptions
Easily manage your subscription through your Visanto account. Adjust the products, delivery dates, skip deliveries or cancel any time. 
 How it works: 
Join Visanto's Subscribe and Save program today!
Pure - Natural - Dietary Supplements
---